Learn how to make zucchini noodles in 5 different shapes! Healthy, easy & fun, they're the best way to add extra veggies to pasta salad, lasagna & more.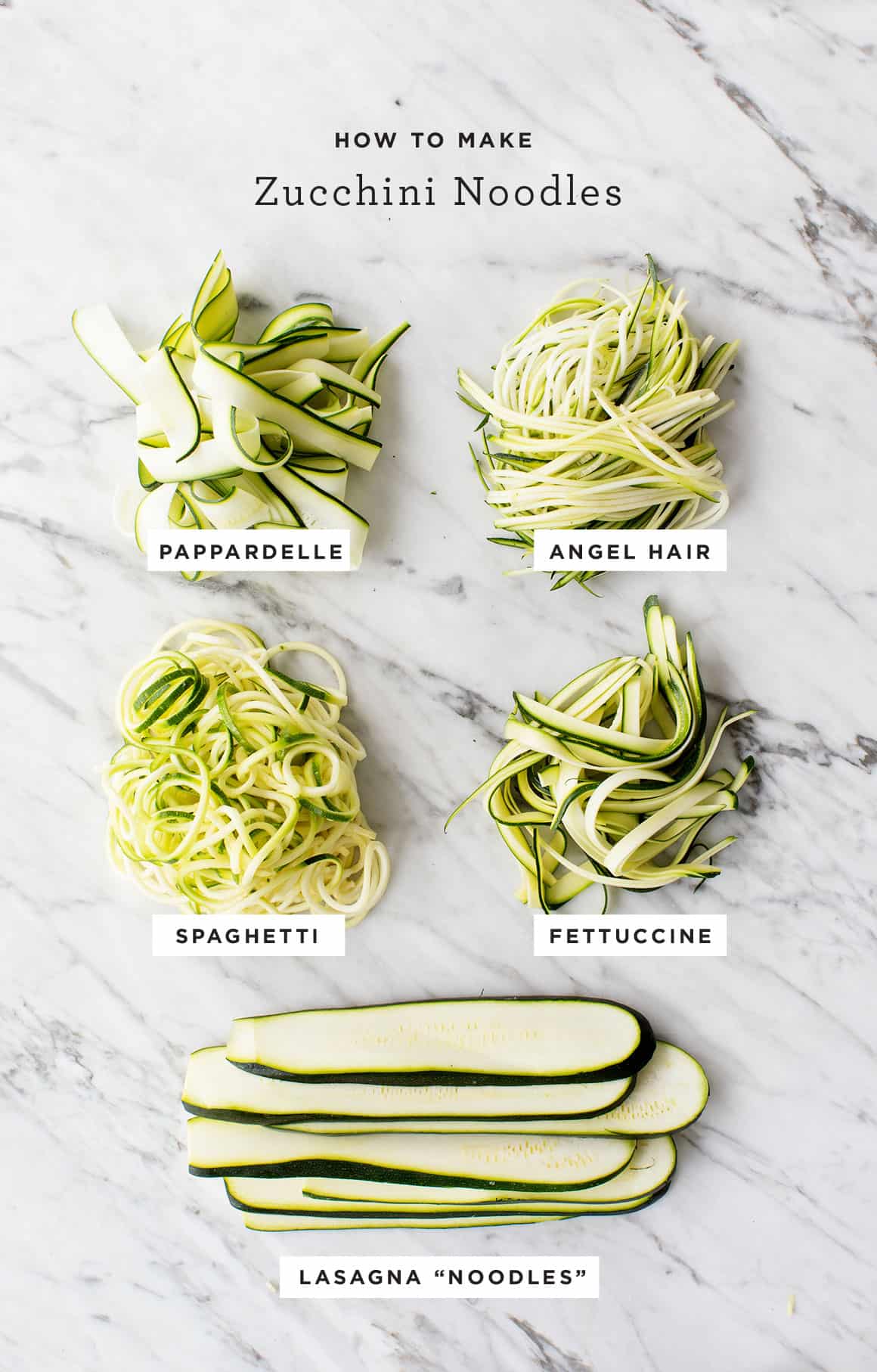 Nowadays, spiralized zucchini noodles are easy to find at the store, but they're so much better when freshly cut. Curly & long, they seem like a natural pasta substitute, but let me tell you – these fresh, vibrant veggie noodles can do so much more than sub in for spaghetti!
I add them to soups, salads & pasta salads, and even layer them into lasagna. They may seem intimidating to make at home, but with the right tools (spoiler alert: a spiralizer isn't always necessary!), it's easy. Plus, making your own zucchini noodles is cheaper than buying them at the store, and it's fun to transform a vegetable into your favorite pasta shapes. So grab a bunch of zucchini, and let's get started!
How to Make Zucchini Noodles
Zucchini noodles of all shapes & sizes are simple to make. My goal for this post is to show you how to make a variety of noodle shapes using a variety of different kitchen tools. I outline my 5 favorite kinds of zucchini noodles below, along with the pros & cons of each method, what tools you'll need, and what brands I've had the most success with.
1. Make Curly "Spaghetti" Zucchini Noodles using a Spiralizer.
I've worked with two types of spiralizers – countertop spiralizers and the KitchenAid Spiralizer Attachment. Of the countertop spiralizers I've owned, the Inspiralizer (pictured above) has been my favorite. It clamps to the counter, so it doesn't move around while you work. It's also easy to clean and relatively small, so it's easy to store.
The KitchenAid Spiralizer Attachment makes great curly noodles too. It's pricier, but if you want to make sweet potato or butternut squash noodles, it's the best option: it'll cut through these tough vegetables without requiring tons of arm strength.
2. Make "Angel Hair" Zucchini Noodles using a Julienne peeler.
Julienned noodles are thinner and straighter than spiralized noodles, but they taste just the same! I love this option because julienne peelers are tiny, so they'll fit in any drawer. They're also cheap! I tested out three types so that I could recommend the best one for you (this one, this one, and this one). They all worked perfectly, so my choice is this OXO Good Grips one because it's just $7.
This method has a couple cons. It takes a little longer than spiralizing since it's a more manual process. And in my experience, the peeler blades dull over time. I replace my julienne peeler every year or so, depending on how much I use it.
3. Make "Fettucine" Zucchini Noodles using a Mandoline and a knife.
I love having a mandoline on hand to cut vegetables like radishes, cucumbers, and cabbage into paper-thin slices, but you can use one to make zucchini noodles, too! Slice thin zucchini planks with the mandoline, and then use a sharp knife to cut those planks  into fettuccine-sized strips. If you go this route, please, please, please be careful. It's easy to cut yourself on a mandoline. I like the Benriner Mandoline because it's small and easy to store.
4. Make "Pappardelle" Zucchini Noodles using a regular vegetable peeler.
I love this option because you don't need a fancy gadget. I like to use smaller squash here, peeling them vertically into thin strips. You end up with yummy pappardelle-sized noodles! This OXO Peeler (pictured) and the Kuhn Rikon Peeler are my favorites.
5. Make Lasagna Zucchini "Noodles" with a sharp chef's knife.
… Because lasagna noodles are noodles too! Use a sharp knife to slice your zucchini vertically into thin planks, and layer them into your next lasagna in place of the pasta.
How to Cook Zucchini Noodles
If I'm making any of the first 4 types of zucchini noodles, there are two ways I like to cook them (or not):
If I'm making lasagna, I bake until the zucchini is tender, but still has a nice bite. The cooking time will be similar to or slightly longer than a cooking time for a lasagna made with regular pasta.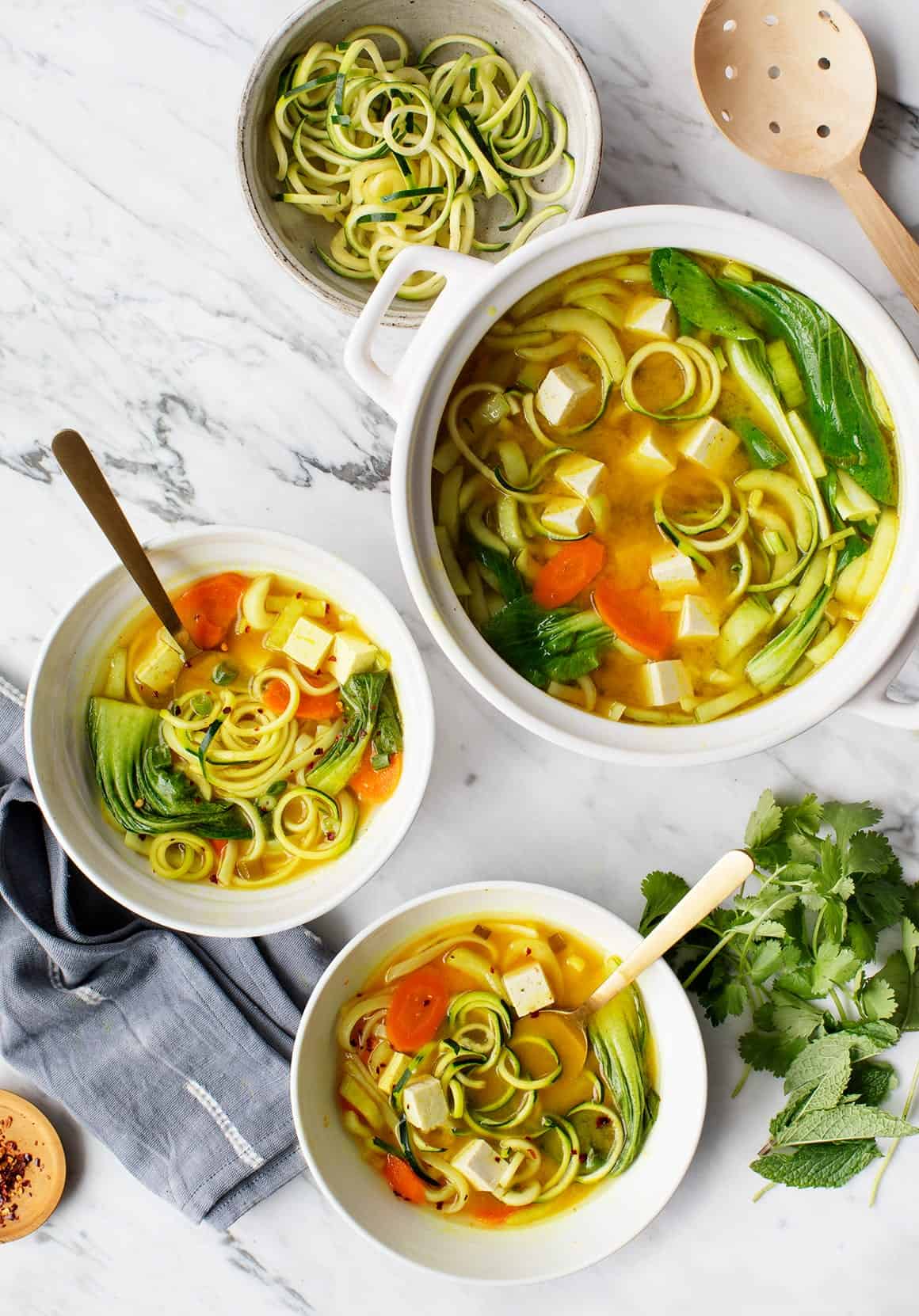 Looking for zucchini noodles recipes?
Try any of these: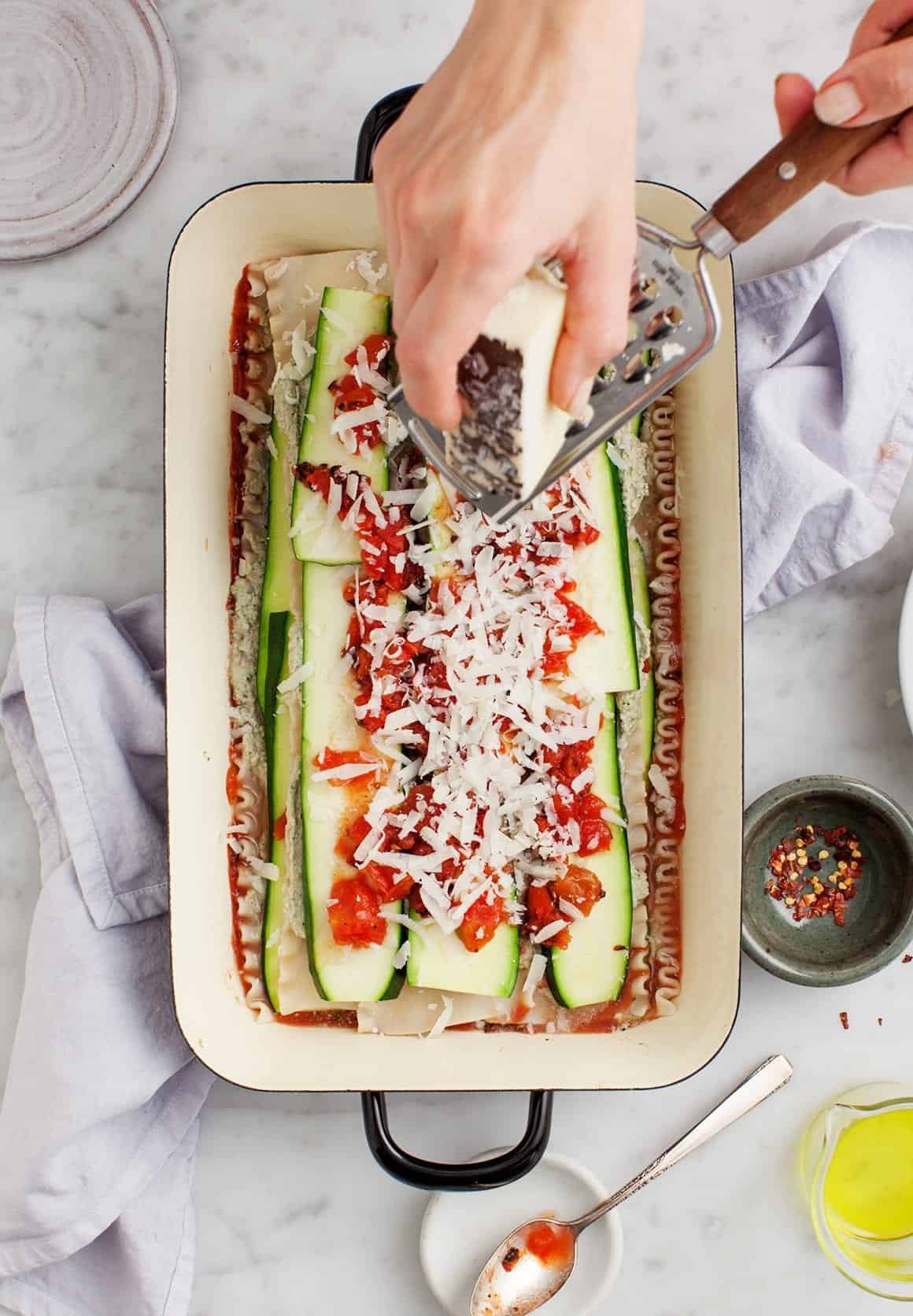 Still want more ideas for cooking zucchini noodles?
Substitute them for some or all of the regular noodles in these recipes:
Or simply toss them with olive oil and lemon juice, fresh herbs, and Parmesan cheese. Season with salt and pepper, and enjoy!
Waste Not, Want Not
When you're done making zoodles, you'll likely have some scrap pieces left over. There's no need to toss them! Blend extra zucchini scraps into hummus, smoothies, creamy zucchini soup, or use it to make the "ricotta" filling in this lasagna recipe. Chop it up and toss it into a frittata or make zucchini pesto (there's a recipe on page 275 of The Love & Lemons Cookbook).
If you're looking for more zucchini recipes, check out this post for 35 of my favorites.
More Plant-Based Cooking Basics
If you love this recipe, try one of these plant-based cooking components next:
How to Make Zucchini Noodles
Learn how to make zucchini noodles in different shapes!
Ingredients
simple serving suggestions:
Instructions
Choose the type of noodle you would like to make and follow the instructions for each option below.

For curly "spaghetti" noodles using a countertop spiralizer: Clamp the spiralizer to your countertop. Trim off the tip of the zucchini and secure it between the blade and the teeth of the spiralizer. Turn the handle to make the noodles.

For straight "angel hair' noodles using a julienne peeler: Simply hold the zucchini with one hand and pull the julienne peeler across the zucchini to make strips.

For "fettucine" noodles using a mandoline and a knife: Slice thin zucchini planks with the mandoline, and then cut those planks into fettuccine-sized strips.

For "pappardelle" noodles using a regular vegetable peeler: Use the peeler to simply peel thin strips of zucchini.

Serve the zucchini noodles raw with a warm sauce (the heat of the sauce will gently cook the noodles without making them mushy). Or heat a skillet to medium heat, brush with olive oil, add the noodles and heat 1 minute, or until just warmed through. Remove and serve with desired sauces and toppings.