If you're wondering, "What is tempeh?", you've come to the right place! This guide will teach you how to cook it perfectly for all sorts of tempeh recipes.
Have you tried tempeh? If you follow a plant-based diet or are interested in eating less meat, it's a fantastic source of protein. Unlike tofu, it has a meaty, firm texture and yummy nutty flavor. As a result, it's incredibly versatile – I love layering into sandwiches, crumbling it up to mimic ground meat, tossing into stir fries, and searing it like a steak. Read on to find my go-to method for how to cook it, along with my best tempeh recipes. However you try it, I hope you love it too!
What is Tempeh?
Tempeh is a plant-based protein source that originated in Indonesia. It's made from fermented soybeans that have been formed into a block, though store bought tempeh often includes additional beans and grains. Though it's known for its high protein content, it offers a host of different health benefits. For example, it's loaded with vitamins and minerals like calcium, manganese, phosphorus, and iron! Find it at any health food store or in the refrigerated section of most grocery stores.
How to Cook Tempeh
Baking is my favorite method for how to cook tempeh. It's really easy, and the nutty cubes become crisp and caramelized while they're in the oven. Here's how I do it:
First, chop your tempeh. When I'm baking it, I like to cut it into 1-inch cubes.
Then, steam it! Don't skip this step! Steaming tempeh before baking or grilling it helps it soak up a marinade and infuse it with extra flavor. Steam the cubes for 10 minutes, and whisk together a marinade while they cook. In this recipe, I use a simple mixture of tamari or soy sauce, rice vinegar, maple syrup, olive oil, and sriracha.
Next, it's time to marinate! Pour the marinade over the steamed cubes, and let them soak for at least 30 minutes.
Finally, you can bake. Spread the marinated cubes on a parchment-lined baking sheet, and transfer them to a 425-degree oven for 10 minutes. After 10 minutes, remove them from the oven, and brush more of the marinade over the cubes. Bake for another 10 minutes, until the cubes are charred around the edges. Enjoy!
Best Baked Tempeh Recipes
Once you've made this baked tempeh recipe, you can use it in nearly any salad or bowl! Try swapping it for the tofu, beans, or chickpeas in any of these recipes:
Or add it to these recipes for extra protein:
Alternatively, build your own grain bowl, using the baked tempeh for protein. Then, choose 1 (or more) item from each of these categories:
More Tempeh Recipes
As you can see, these savory baked tempeh cubes are incredibly versatile, but there are other methods for how to cook tempeh! Here are a few of my favorite tempeh recipes that use different marinades or cooking methods: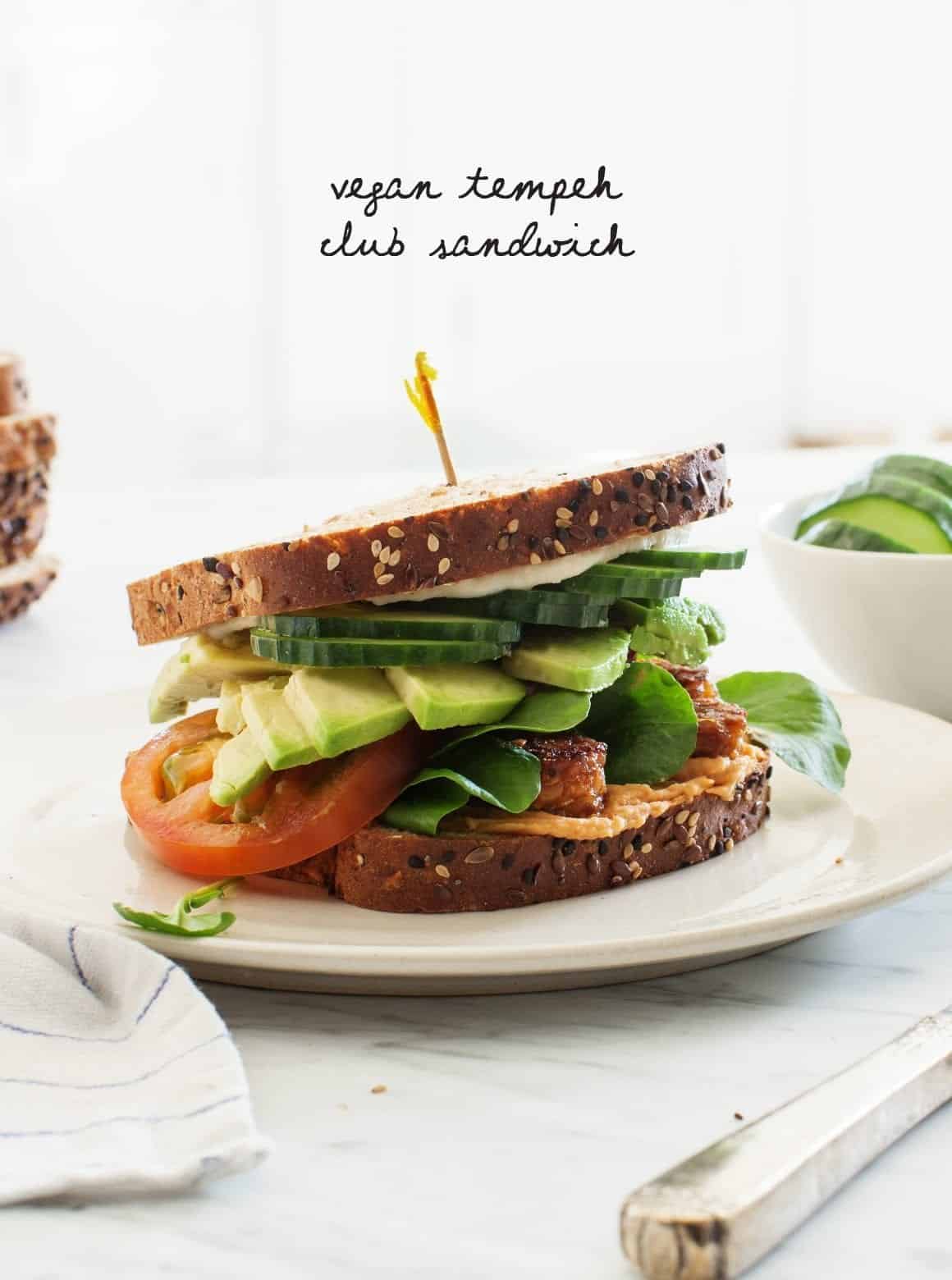 Marinated baked planks of tempeh take the place of bacon in this veggie riff on a BLT sandwich!
Kimchi Brown Rice Bowls
Smoky grilled tempeh steaks make these fresh, nourishing bowls hearty and satisfying!
Loaded Mini Baked Potatoes with Tempeh "Bacon"
You won't miss the meat in these mini vegan baked potatoes! Crisp, smoky "bacon bits," chives, and tangy cashew sour cream or vegan cheese sauce really take them over the top.
If you're looking for even more recipes, try my Mango Peanut Tacos or Stuffed Acorn Squash!
More Plant-Based Protein Sources
Want to try another source of protein? Make lentils, roasted chickpeas, or baked tofu next!
Marinated Baked Tempeh
Instructions
Cut the tempeh into cubes, place in a steamer basket, and set over a pot with 1-inch of water. Bring the water to a simmer, cover, and let steam for 10 minutes. This helps it become tender and ready to soak up more flavor from the marinade.

In a small bowl, whisk together the tamari, vinegar, maple syrup, olive oil, sriracha, and several grinds of pepper. Place the tempeh in a shallow dish and pour the marinade on top to coat. Marinate for at least 30 minutes.

Preheat the oven to 425°F and line a baking sheet with parchment paper.

Arrange the cubes onto the baking sheet, reserving the excess marinade.

Bake 10 minutes. Remove from the oven and brush more of the marinade onto the cubes. Bake 10 more minutes or until the cubes are charred around the edges. Enjoy on salads or grain bowls.
Notes
For grilled tempeh: Cut the tempeh into triangles and follow the marinating instructions above. Preheat a grill to medium. Spray the grill and grill the tempeh 7-9 minutes on the first side. Remove from grill, dip it back into the marinade to coat, then return it to the grill and grill the second side for 4-5 minutes, or until deep char marks form.