Looking for new brunch ideas? Try one of our 51 best brunch recipes! With plenty of sweet and savory options, we've got something for everyone.

Brunch might be the most popular meal there is, and for good reason! It's the perfect combination of breakfast and lunch—you can opt for savory fare like chilaquiles or a slice of quiche or satisfy your sweet tooth with cinnamon rolls or a stack of pancakes. At the brunch table, anything goes.
I'm sharing 51 of my best brunch ideas below. Filled with easy, doable, and delicious recipes, this list includes sweet brunch ideas, savory brunch ideas, and our best brunch drinks. Whether you're looking for inspiration for a big holiday brunch or a lazy weekend meal for two, you're sure to find recipes you love.
Brunch Recipes for a Crowd
If you're serving a crowd for a special occasion brunch, there's no need to flip French toast to order. In these easy brunch recipes, the oven does the work for you!
I make these homemade cinnamon rolls every year for the holidays. Soft, gooey, and topped with a sweet vanilla glaze, they're one of my family's favorite brunch recipes.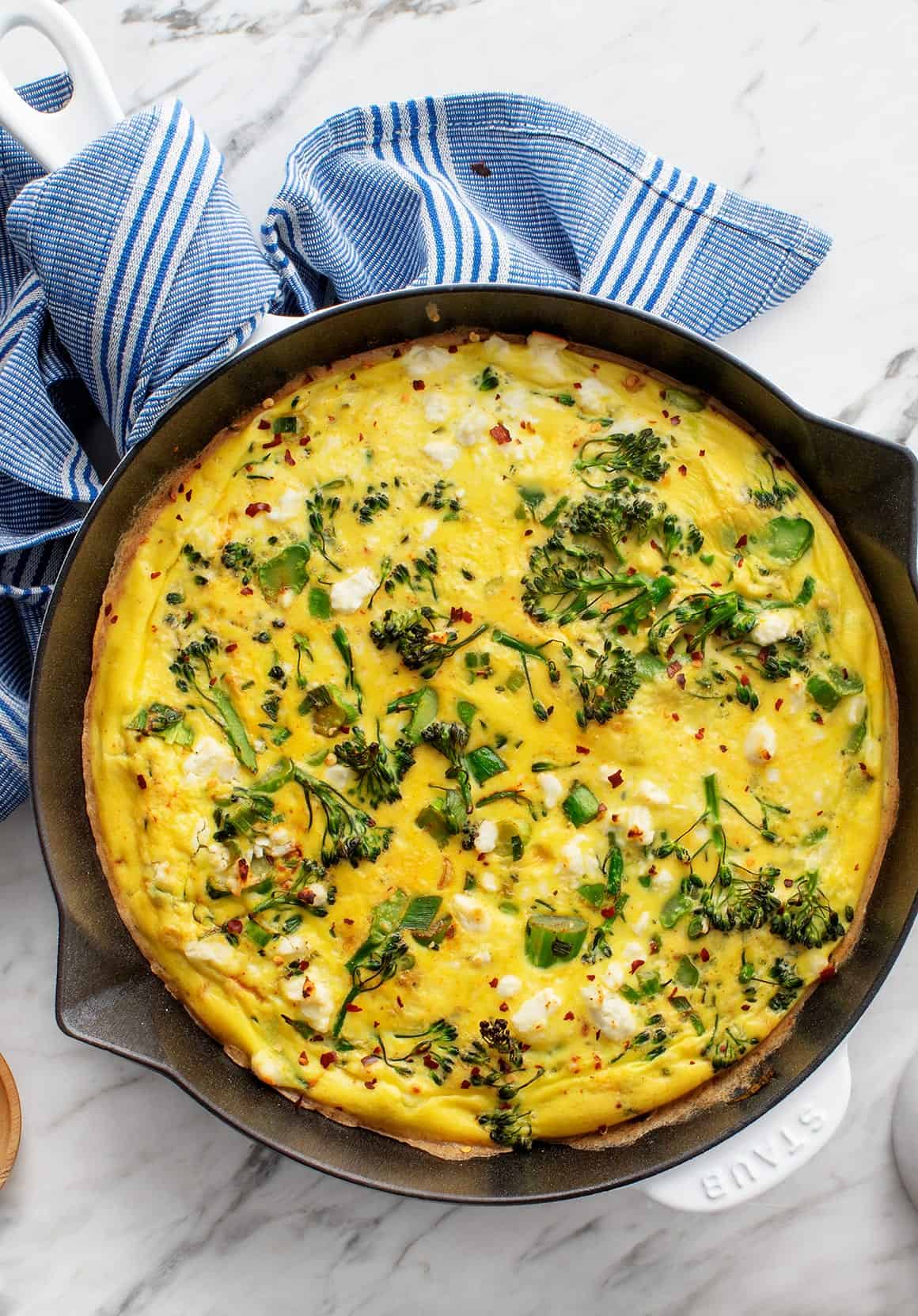 I've said it before, and I'll say it again: frittatas are the best brunch recipes. They're flavorful, satisfying, and easy to throw together at the last minute—great for serving a crowd!
If you love make-ahead brunch ideas, you have to try this French toast casserole! You can assemble it the night before and bake it off in the morning. With its moist, custardy middle and crisp topping, it'll be a hit with guests.
So much better than the average bowl of oats! This baked oatmeal is lightly sweet, warmly spiced, and packed with juicy berries. It stays soft and creamy in the middle, while a layer of coconut flakes and pecans gets crisp and toasty on top.
Guaranteed to impress guests, this spinach quiche has a delicate, custardy filling and the flakiest crust. Prep the pie crust a day ahead so that you can easily get the quiche in the oven before brunch.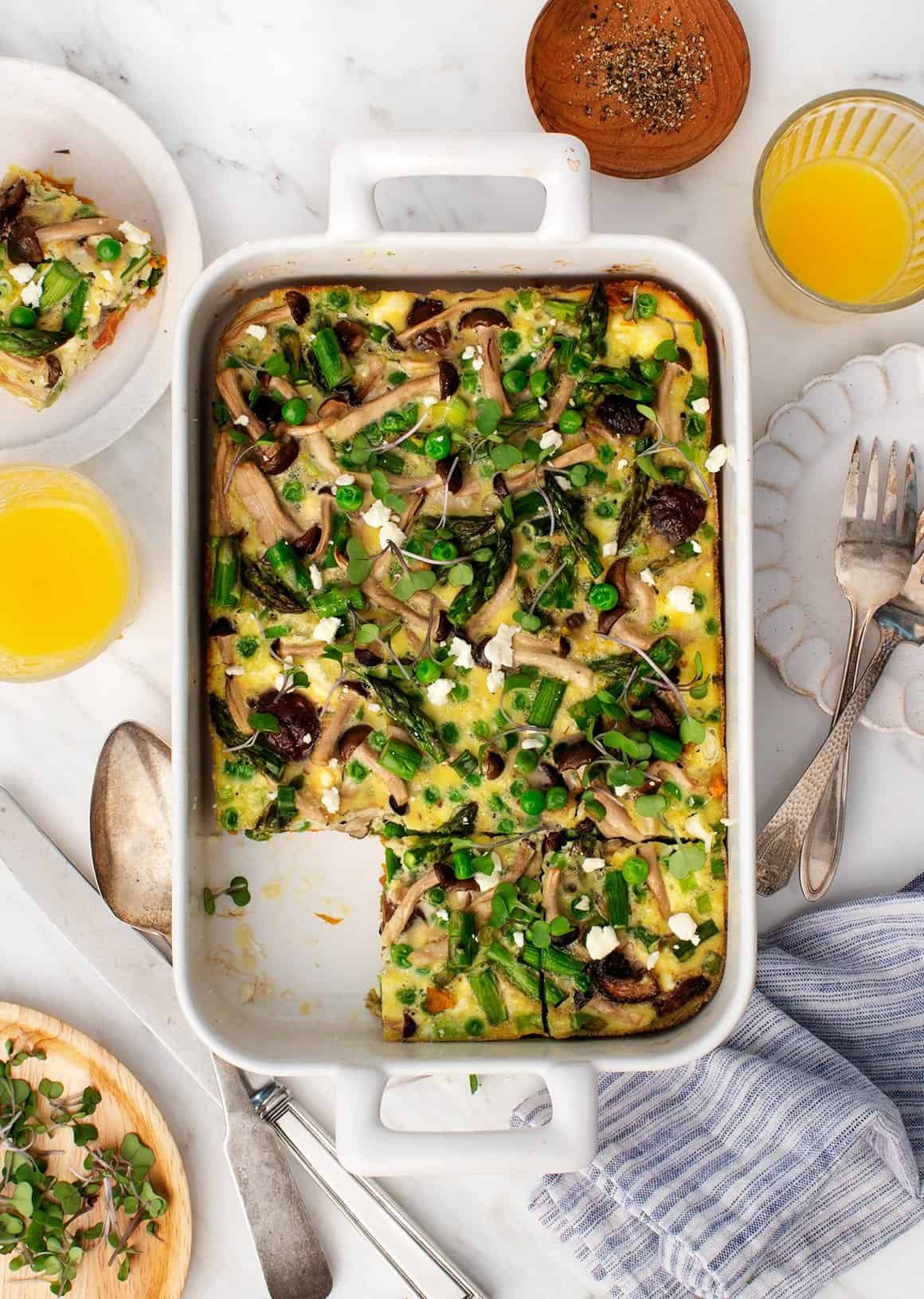 Inspired by my mom's classic breakfast casserole, this egg bake is a staple on our brunch table. It's packed with flavorful roasted veggies, with a secret layer of roasted sweet potatoes hiding at the bottom.
Instead of the traditional sour cream, whole milk Greek yogurt adds moisture to this scrumptious coffee cake. My favorite part? The buttery cinnamon crumble on top!
These mini frittatas would be a delightful addition to any brunch spread! Feta cheese, scallions, and bell peppers fill them with delicious savory flavor.
Southwest Brunch Ideas
Spice up your brunch menu with these Southwest-inspired recipes.
Kickstart your morning with this epic breakfast burrito! Filled with eggs, breakfast potatoes, pico de gallo, and fresh veggies, it's healthy, fun, and easy to make.
After living in Austin for over a decade, I'm convinced that migas are one of the tastiest brunch ideas. If you're not familiar with them, they're eggs scrambled with cheese, tortilla chips, and—in my recipe—fresh veggies. Serve them with tortillas and plenty of salsa, and you'll be hooked.
Filled with pico de gallo, avocado, and creamy scrambled eggs, these tacos are a healthy, refreshing way to start the day.
A plant-based riff on scrambled eggs, this tofu scramble is creamy, savory, and satisfying. Dress it up with smoky salsa roja or tangy salsa verde to take it over the top.
More Savory Brunch Recipes
Hold the pancakes! Here, you'll find savory brunch classics like shakshuka and omelettes as well as a few out-of-the box ideas (vegan carrot lox, anyone?).
This Middle Eastern and North African dish consists of eggs poached in a spicy tomato and red pepper sauce. Top it with tangy feta cheese, and serve it with pita or crusty bread for scooping everything up.
Caprese Eggs Benedict with Healthier Hollandaise, page 41 of Love & Lemons Every Day
Does making Hollandaise sauce sound fussy to you? Same! That's why I love the creamy sauce in this recipe. Just like regular Hollandaise, it's delicious over soft poached eggs and English muffins, but it's a cinch to make in the blender.
Customize it with your favorite filling!
You know it's going to be a good day when it starts with a sandwich that looks like THAT. This epic brunch number is loaded up with fresh veggies, a spinach omelette, and a creamy herbed goat cheese spread.
Dress them up with simple toppings like sautéed asparagus, fresh herbs, and/or feta cheese.
One of the easiest brunch ideas! These creamy, comforting eggs cook up in less than 5 minutes.
Sweet potatoes, peppers, onions, and kale form a flavorful (not to mention healthy!) base for just-set eggs. Serve with sliced avocado and your favorite hot sauce.
Get ready for that runny yolk moment.
In this plant-based riff on bagels and lox, roasted carrot ribbons replace the traditional fish. It might sound out there, but trust me—it totally works.
The ultimate brunch side dish.
French Toast and Waffles
Pass the maple syrup!
It's crisp on the outside, soft in the middle, and seasoned to perfection with warm spices. Best of all, it couldn't be easier to make.
Let's be real: toppings are half the fun of eating waffles for brunch. Pile on fresh fruit, peanut butter, powdered sugar… I wouldn't say no to a drizzle of Nutella either!
Cozy fall vibes on a plate. 😊
I love to top this cinnamon-spiced breakfast bake with pomegranate arils at the holidays, but feel free to swap in your favorite seasonal fruit.
Pancake Brunch Recipes
If your ideal brunch is a stack of fluffy pancakes, you're in the right place.
Double the fun by topping your stack with my quick blueberry compote.
Moist, tender, and full of banana bread flavor, these pancakes are a tough breakfast to beat. Need a plant-based option? These vegan banana pancakes are equally yummy.
Made with 100% almond flour, these fluffy pancakes are grain-free, gluten-free, and packed with protein. They have a lovely nutty flavor too!
You don't need mixing bowls to make these oatmeal pancakes—the batter comes together in the blender instead! They're easy enough to make on weekends and weekdays alike.
Buckwheat flour gives these pancakes a wonderful earthy, nutty flavor…and makes them totally gluten-free! We love them with strawberry compote on top.
No eggs? No problem! These vegan pancakes are just as soft and fluffy as regular ones, and they're easy to make with basic ingredients.
Quick Bread Recipes
Quick breads are some of my favorite brunch ideas because they freeze perfectly! Bake off your loaf well ahead of time, and pop it in the freezer for up to 3 months. Let it thaw at room temperature the night before you want to serve it, and it'll taste like it was freshly baked the next day.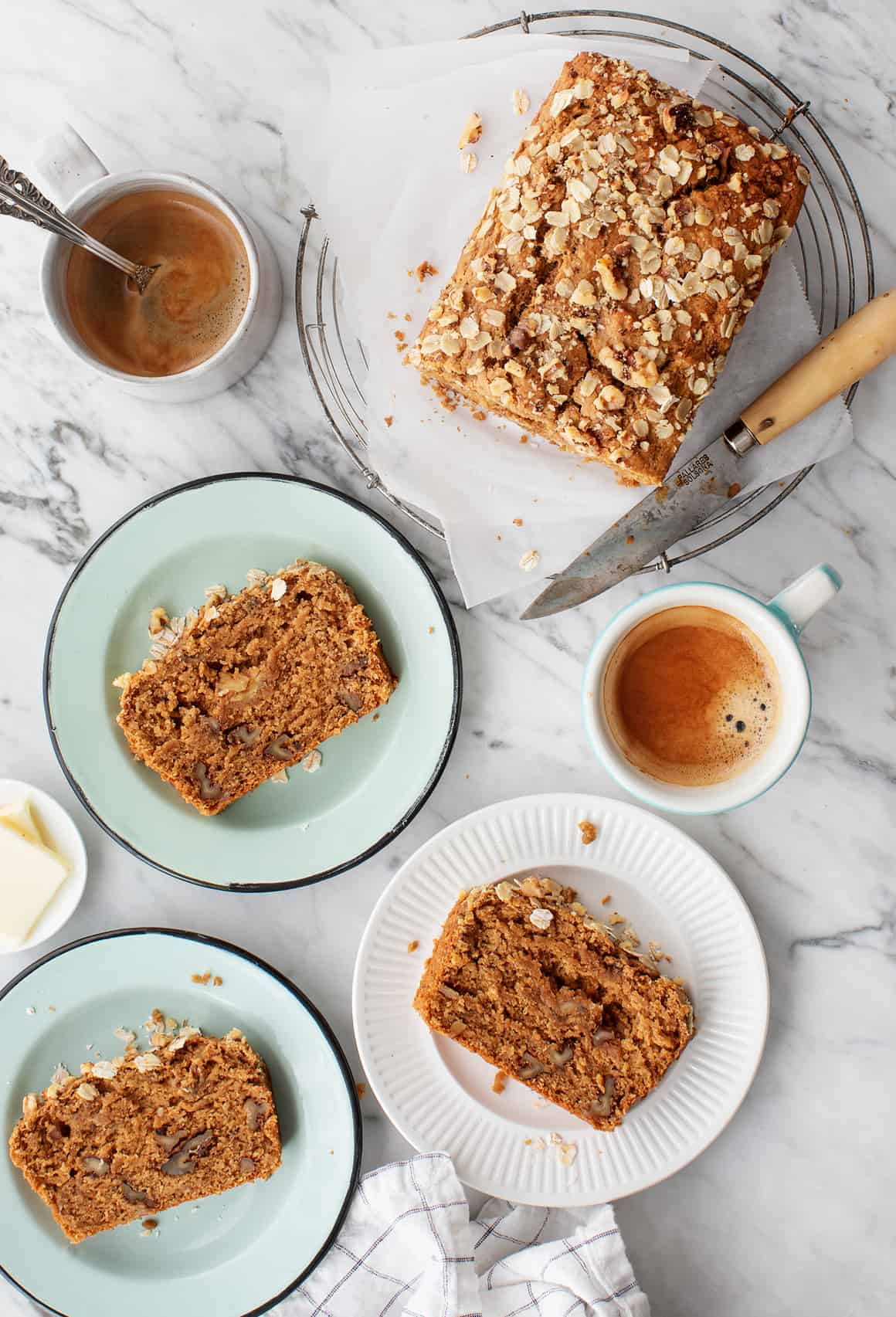 Many banana bread recipes claim to be moist, but this one really is. Almond flour gives it a crave-worthy texture.
This zesty loaf comes out perfectly with fresh or frozen berries. Top it with my 2-ingredient lemon glaze for an extra burst of bright flavor.
I love this moist, warmly spiced quick bread with walnuts, but you could just as easily add chocolate chips.
Can't get enough pumpkin spice in your life? Make this easy loaf for a fall or winter brunch.
Muffins and Scones
These sweet treats are the perfect accompaniment to savory brunch dishes like frittatas or breakfast casseroles.
The poppy seeds add delightful crunch to these bright, lemony muffins.
Who doesn't love chocolate for breakfast?!
Meet the only scone recipe you need! These mouthwatering treats have crisp edges and buttery middles with juicy berries dotted throughout. For a fun twist, change up the fruit. Fresh strawberries or dried cherries would be a delicious alternative to the blueberries.
These moist, fruit-filled treats are one of my favorite brunch ideas for Mother's Day.
These ridiculously cute cupcakes fit right in at a spring brunch—think Easter, Mother's Day, really any occasion. You can call them muffins if you skip the cream cheese frosting…but why would you want to do that?
Fruit and Oat Brunch Ideas
If you're looking for alternatives to decadent brunch ideas like cinnamon rolls, sausage, coffee cake, and bacon, this might be the section for you. It features lighter fare like oatmeal and fresh fruit that still delivers special occasion flavor.
Set out this cinnamon-spiced granola with yogurt and fresh fruit for a DIY parfait bar…if you can resist eating it all straight off the sheet pan.
These little parfaits taste like dessert, but they're packed full of nutrients! The chia seeds offer plant-based protein and omega-3 healthy fats.
No matter what else you're serving, a fresh fruit salad is a great addition to brunch! A citrus-ginger dressing elevates this simple recipe.
The Instant Pot makes it easy to cook oatmeal for a crowd. Set up a fun toppings bar to go with it. I like to include fresh and dried fruit, nuts or nut butter, yogurt, jam, and honey or maple syrup. Everyone will love customizing their bowl!
Make one of the four variations pictured above, or set out an array of toppings for guests to choose from.
Brunch Ideas to Drink
Cheers!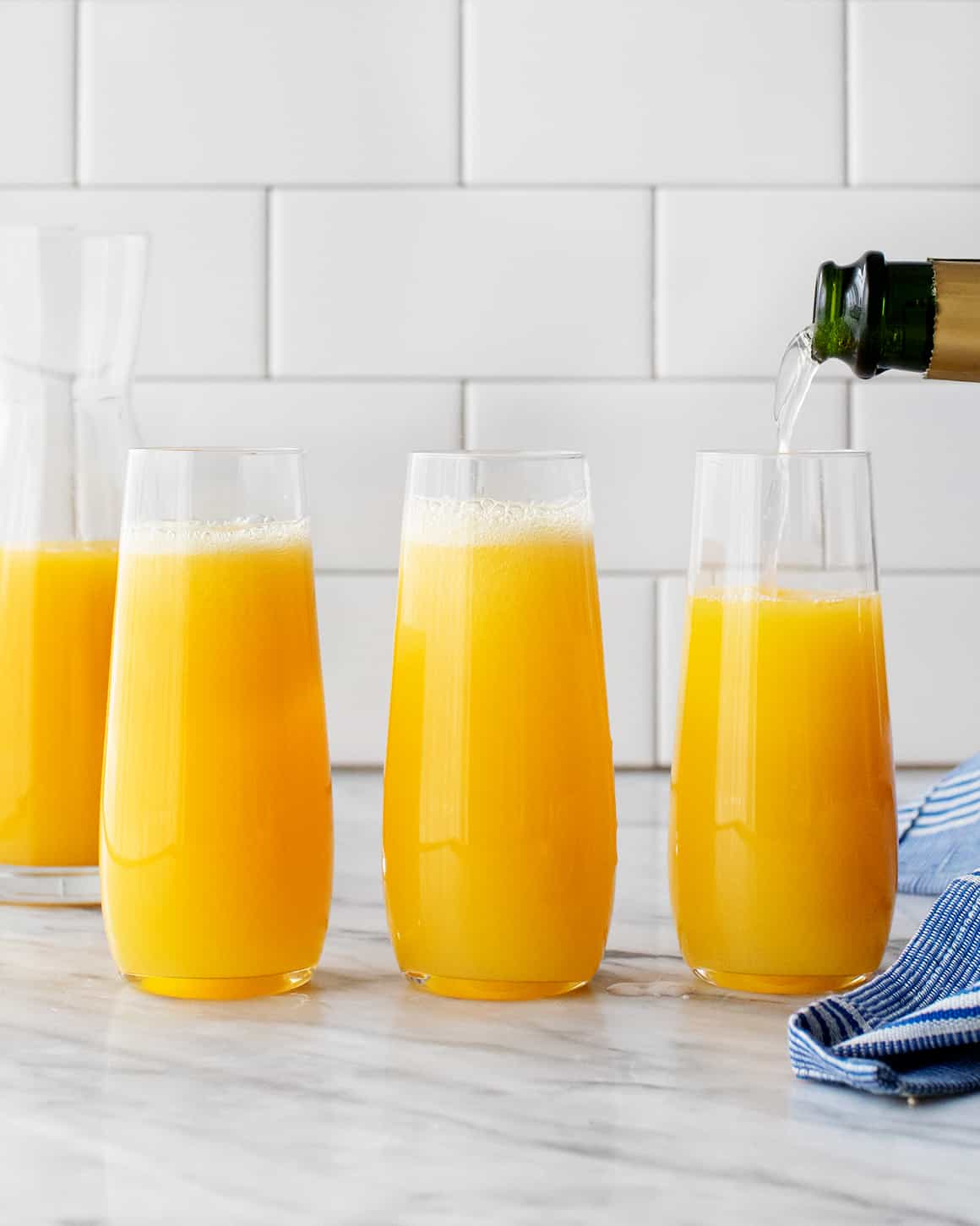 These 2-ingredient cocktails are a bubbly brunch classic.
Like a mimosa, but with peach puree instead of orange juice! I like to use frozen peaches to save myself the work of peeling fresh ones.
This homemade version is SO much better than Starbucks.
If your guests aren't coffee drinkers, these energizing green tea lattes might tempt them. They're easy to make with 4 simple ingredients.
If you loved these brunch recipes, check out our favorite Healthy Breakfast Ideas and Easy Dinner Ideas next!
51 Best Brunch Recipes
These vegan banana pancakes are one of our favorite brunch food ideas!
Ingredients
1

tablespoon

ground flaxseed

3

tablespoons

water

½

cup

mashed banana

,

about 1 large

2

tablespoons

extra-virgin olive oil,

plus more for brushing

1

teaspoon

vanilla

¾

cup

+ 2 tablespoons almond milk

,

more if needed

1½

cup

whole wheat pastry flour*

½

cup

oat flour**

2

teaspoons

baking powder

½

teaspoon

baking soda

1

teaspoon

cinnamon

½

teaspoon

nutmeg

heaping ¼ teaspoon sea salt

Maple syrup,

for serving
Instructions
In a large bowl, combine the flaxseed, water, and banana. Mash and stir until well combined. Let the mixture sit for 5 minutes to thicken. Add the olive oil, vanilla, and almond milk and whisk. Add the flour and sprinkle the baking powder, baking soda, cinnamon, nutmeg, and salt evenly over the top. Stir until all the ingredients are combined, but the batter is still a bit lumpy. The batter will be a bit thick but if it's too thick to scoop, stir in an additional 1 tablespoon almond milk.

Heat a nonstick skillet or griddle to medium heat. Brush the skillet with a little olive oil and use a ⅓-cup measuring cup to pour the batter onto the pan. Use the back of the cup to gently spread the batter a little more. Cook the pancakes until bubbles appear, about 1½ minutes per side, turning the heat to low as needed so that the middles cook without burning the outsides. I usually start with medium heat and move to low heat as my pan starts to hold residual heat after each batch.

Serve with maple syrup, sliced bananas, and pecans, if desired.
Notes
*I like Bob's Red Mill Whole Wheat Pastry Flour
*To make the oat flour, use a food processor or a blender to process a heaping ½ cup rolled oats into a fine flour and measure out one level ½ cup.