If you're looking for new healthy lunch ideas, you're in the right place. These easy lunch recipes are fun, filling, and good for you, too!
Good healthy lunch ideas are like gold. In the middle of a busy work day, lunch is the longest break I take. It's a time to reset, relax, and re-energize to tackle the tasks that lie ahead. Great healthy lunch recipes are ones that I can make ahead of time and that will keep me full and focused throughout the afternoon. But the best healthy lunch ideas taste delicious, too! They add something fun and flavorful to the middle of the work day, making my midday break extra-refreshing and worth looking forward to.
Below, you'll find my top healthy lunch ideas, tricks, and tips, plus a slew of tasty healthy lunch recipes. Whether it's your first time packing lunch or you're a seasoned pro looking for new easy lunch ideas, I hope you find something you love!
Sandwich and Wrap Healthy Lunch Ideas
When it comes to quick and easy lunch ideas, you can never go wrong with a good sandwich! The recipes below include fun twists on classics like egg salad and peanut butter and jelly as well as out-of-the-box sandwiches you may not have tried before. Tip: no one likes a soggy sandwich, so it's best to assemble these lunch recipes on the day you plan to eat them.
I could eat these lunch wraps every day of the week! A Dijon mustard vinaigrette adds bold, tangy flavor to the chickpea, kale, and avocado filling.
I'm not kidding when I say that this is THE BEST egg salad recipe! It's briny and bright, packed with fresh herbs, capers, and lemon juice. For an equally tasty vegan egg salad, sub crumbled tofu for the hard boiled eggs.
PB&J with Hazelnut Butter and Strawberry Chia Jam, page 45 of The Love & Lemons Cookbook
Tired of the same old PB&J? Try this elevated spin! It features homemade hazelnut-pecan butter and tart strawberry chia jam. To enjoy this recipe year-round, make the jam with frozen berries instead of fresh.
This vegan spin on a French pan bagnat is one of my favorite healthy lunch ideas. A creamy, briny chickpea salad steps in for the traditional tuna, while fresh veggies like cucumbers, radishes, and green beans add delicious crunch.
The fun thing about making falafel for lunch is that you don't have to eat it the same way all week. Top it onto a salad with tahini dressing one day, and add it to a grain bowl the next. Finally, stuff it into a wrap with fresh veggies, pickled onions, and lots of hummus.
Roasted tomatoes and pickled red onions really amp up the flavor in this lunchtime classic.
I love to prep the components of these wraps on the weekend so that I can easily assemble them throughout the week. They're such a flavorful, satisfying healthy lunch. Creamy hummus, shawarma-spiced chickpeas, spicy zhoug, and fresh veggies fill soft pita bread.
Healthy Lunch Ideas for Noodle Lovers
Not in the mood for a lunchtime salad or sandwich? These lunch ideas with noodles might just hit the spot.
If our readers had to choose their favorite lunch recipes on Love & Lemons, these noodles would be #1. A tangy, nutty sesame dressing coats soba noodles, edamame, and lots of crunchy veggies. Feel free to vary the veggies with the season—julienned carrots, cucumbers, steamed broccoli, asparagus, kale, and more are fantastic here.
Chewy rice noodles, tofu, avocado, herbs, and mango create an irresistible filling for these refreshing spring rolls. To take them over the top, serve them with peanut sauce for dipping.
If you love quick and easy meal prep, this recipe is for you. The only component that requires cooking is the noodles, and you can stir together the peanut sauce in a single bowl. You'll have a week's worth of lunches ready in 30 minutes flat!
Soba Noodle Picnic Salad with Tahini Miso, page 117 of Love & Lemons Every Day
These colorful salads don't just look adorable layered up in Mason jars—they keep well that way, too! Prep a bunch on a Sunday, and they'll last all week in the fridge.
Grain Bowl Lunch Ideas
Equal parts filling, flavorful, and fresh, grain bowls are my go-to healthy lunch ideas. Feel free to use these recipes as a guide. Make them your own by swapping in a different grain, alternative veg, or your favorite sauce.
A sunny turmeric tahini sauce jazzes up this simple combination of chickpeas, roasted sweet potatoes, kale, and brown rice.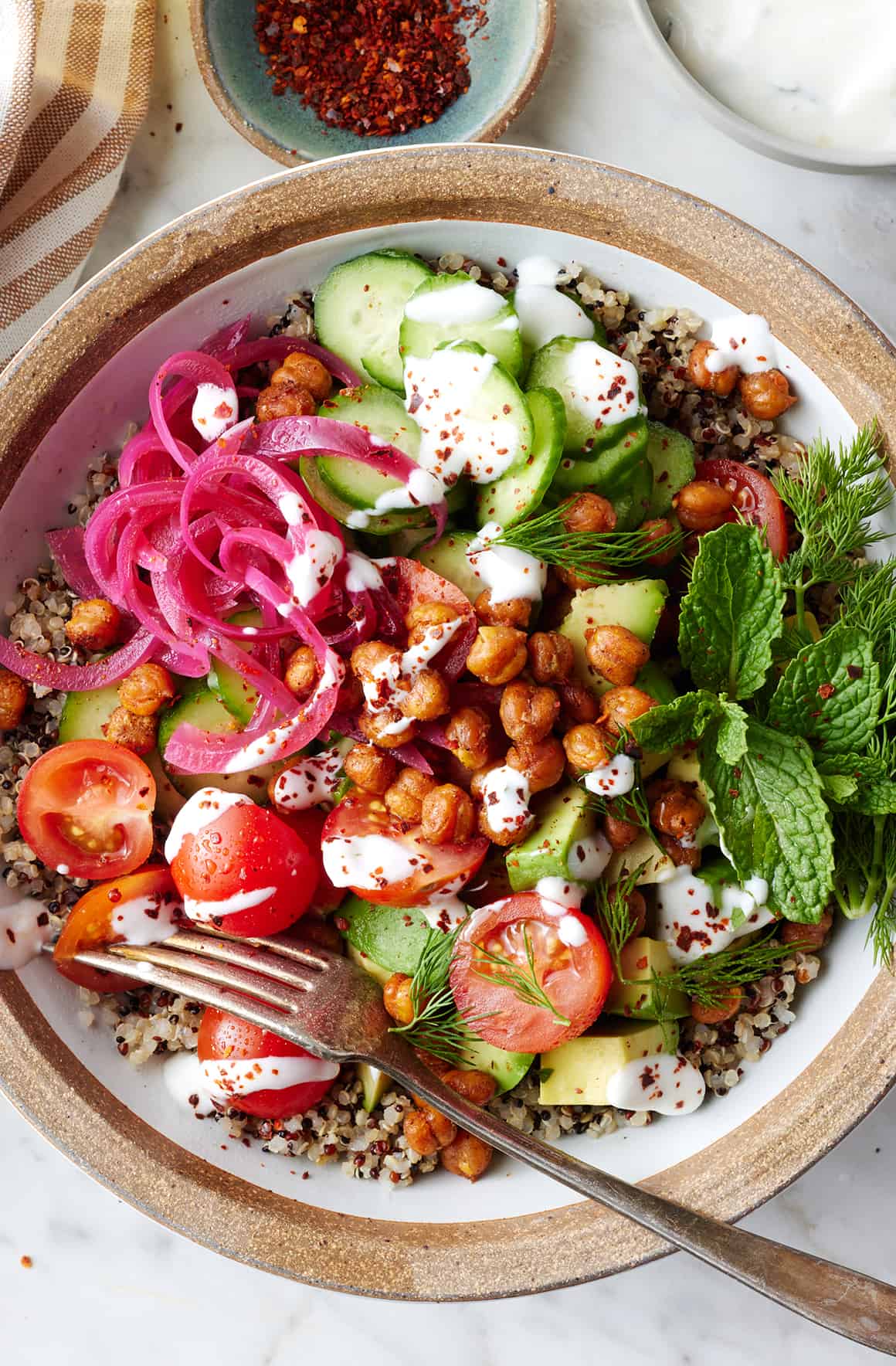 A creamy garlic yogurt sauce adds bright, savory flavor to this healthy lunch dish. Make it vegan by using tahini sauce or a dollop of hummus instead!
Your favorite veggie sushi, now in rice bowl form! Don't forget the spicy mayo for serving.
So much better than Chipotle! I love to pile on black beans, tofu sofritas, fajita veggies, and guacamole, but feel free to make your bowl your own.
Have you tried forbidden rice? If not, make this power lunch bowl ASAP! Irresistibly chewy and nutty, the rice shines against fresh veggies, sesame ginger dressing, and a rich, jammy soft-boiled egg.
I love a good sweet and savory flavor combo. Filled with diced mango, pickled ginger, fresh veggies, and a tangy tamari sauce, this refreshing rice bowl delivers just that.
Quinoa and chickpeas pack this hearty grain bowl with plant-based protein.
Big, Bountiful Green Salads to Pack for Lunch
If you love lunch recipes that are bursting with fresh veggies, this section is for you! You'll find gorgeous green salads that are big and bountiful enough to keep you full all afternoon.
Roasted chickpeas, toasted seeds, and avocado make this recipe one substantial salad. Because kale is such a hardy green, you can make this salad up to 4 days in advance. It won't wilt under the bright carrot ginger dressing. Just hold the avocado until the last minute—you don't want it to brown before you're ready to eat!
I love anything with sweet potato or avocado, so naturally, I adore this sweet potato salad, which is a delicious combination of both. I round it out with crisp arugula, tangy feta cheese, toasted pepitas, and a nutty tahini dressing.
The best thing about a chopped salad is that you can get a little of everything in each bite. Here, that means you'll get a forkful of crisp greens, chickpeas, TWO cheeses, pepperoncini, juicy tomato, and sharp red onion. A zingy vinaigrette ties it all together.
The classic, but with a twist. I toss in roasted chickpeas for extra protein and crunch, and instead of using a traditional dressing, I make an easy homemade Caesar dressing with capers and Greek yogurt.
Why let lettuce have all the fun? Toppings like roasted chickpeas, avocado, and homemade croutons make this healthy salad a satisfying lunch option. For a plant-based twist, top the salad with my vegan Parmesan and vegan Caesar dressing.
Who doesn't love a taco salad for lunch?! This one is loaded up with shiitake walnut taco "meat," black beans, crunchy tortilla strips, and ALL the veggies. My cilantro lime dressing adds amazing zesty flavor.
Pasta and Grain Salad Lunch Ideas
Green salads aren't the only ones that are yummy healthy lunch ideas—pasta and grain salads pack up perfectly too! Just save a few of the herbs to add at the last minute. That way, they won't wilt before you eat.
Tip: cook the pasta until it's just past al dente so that it stays tender once it cools.
Sweet and savory collide in this apple and farro fall salad. I love the slight bitterness of the arugula here, but spinach is a great sub if you don't have any on hand.
Quinoa salads are some of my favorite healthy lunch ideas because they're packed with fiber and plant-based protein. I especially love this one. Roasted tomatoes, olives, feta, and my homemade Italian dressing fill it with big, bold flavors.
If you love Greek salad, then this recipe will become one of your go-to easy lunch ideas. Orzo pasta mingles with tangy feta cheese, briny olives, and fresh veggies. Mint, basil, and a zingy Greek dressing take it over the top.
I make this recipe as written in the summer, with basil pesto and thinly shaved zucchini. For an equally good winter option, swap in kale pesto and roasted butternut squash!
I took this salad to almost every gathering we went to last summer, and I always felt lucky when we had some leftover. I knew I'd have a delicious, easy lunch the next day!
Calling all tomato lovers! This lunch idea is for you. It's an herbed couscous salad made with tomatoes two ways, roasted and raw. The roasted tomatoes add chewy texture and rich, savory flavor, while the raw ones stay sweet and juicy.
Hearty Bean and Lentil Salads
You've probably seen these protein-packed salads at picnics and cookouts, but did you know that they're great healthy lunch ideas too? The flavors only improve as they sit in the fridge, so they're perfect for meal prep.
This recipe is a delicious healthy lunch as written, but feel free to have fun with it! Add chopped bell peppers, roasted red peppers, or a sprinkle of feta cheese. You could even serve it over a bed of greens or tuck it into pita bread with a slather of hummus.
The type of lentils you use here matters! Make sure to choose French green or black. They hold their shape nicely when cooked, adding satisfying (aka not mushy) texture to this hearty salad.
Scoop up this zesty salad with tortilla chips, or spoon it into lettuce wraps to sneak some extra veggies into your midday meal.
Fresh green beans, crunchy celery, and herbs bring new life to this classic salad. Just 10 ingredients!
Reheat-able Soups and Stews
If you're not someone who likes to meal prep lunch recipes on the weekend, don't worry—there are other ways you can get ahead on lunch! For example, whenever I cook a soup or stew, I make extra and stash it in the fridge or freezer for a meal down the road. These recipes reheat perfectly for a quick and easy lunch.
Thanks to the Instant Pot, this nourishing soup practically cooks itself!
Ginger, sage, and rosemary fill this comforting soup with cozy autumn flavor. With over 1,000 5-star reviews, this recipe is a HUGE reader favorite. Try it to see why!
My veggie riff on white chili. Serve it with tortilla chips for a fun and healthy lunch.
Tough morning? A comforting bowl of tomato soup is the perfect pick-me-up. If you're working from home, make a gooey grilled cheese sandwich to enjoy alongside it.
The easiest way to use an entire head of cabbage in one go! Fire-roasted tomatoes, garlic, and thyme give this wholesome soup delicious depth of flavor.
If you need a reason to try this recipe, just ask my mom. It's one of her all-time favorites because it's super flavorful, it reheats perfectly, and it's SO darn simple. You likely have all the ingredients in your pantry already!
More Favorite Healthy Recipes
If you love these healthy lunch ideas, check out some of these recipes next:
Pictured at the top of this post: rectangle glass storage containers, and square ones from this set.
Healthy Lunch Ideas: Box Lunch Buddha Bowls
Customize a delicious, packable veggie box lunch by following this formula: a grain, a legume, kale, a roasted vegetable, a raw vegetable, and a pickled vegetable. Top with creamy tahini sauce.
Ingredients
Brown rice, quinoa, or farro

Chickpeas

,

black beans, or edamame

Roasted sweet potatoes or carrots*

Radishes

,

shredded cabbage, carrot peels

Sauerkraut

, pickled ginger or pickled onions

Sesame seeds
Instructions
Assemble bowls with a grain, the massaged kale, a legume, roasted vegetable, raw vegetable, and a fermented or pickled vegetable.

Drizzle generously with tahini sauce and sprinkle with sesame seeds. Serve with more tahini sauce on the side.
Notes
*To roast the vegetables, preheat the oven to 425°F. Toss with olive oil, salt, and pepper, and roast the carrots for 15 to 20 minutes, and the sweet potatoes for 20 to 28 minutes.